Tell us your challenge
and get professional advice from one of our specialists
Schedule a non-binding talk with one of our specialists!



This could be about anything - from purchasing one of our machines to more information about a press or a printing technology - such as flexo or hybrid printing. Or do you want to discuss how MPS machine contribute to connectivity and performance improvements drive a success formula for profit?

Simply let us know what you would like to talk about and one of our specialists will contact you shortly.


"I am very interested in hearing your thoughts on the future of label printing and challenges in it. Would an MPS hybrid or flexo press be an option for you? Let's find out together!"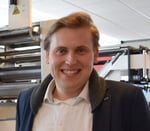 Sebastiaan Rakhorst, Regional Sales Director
"You might know me from technical blogs or videos about different printing technologies, especially hybrid. Is your question not answered in one of these blogs? I would be happy to help you!"
Leopold Der Nederlanden, Training Centre Manager